It's all about the space
Article
21 Nov 2019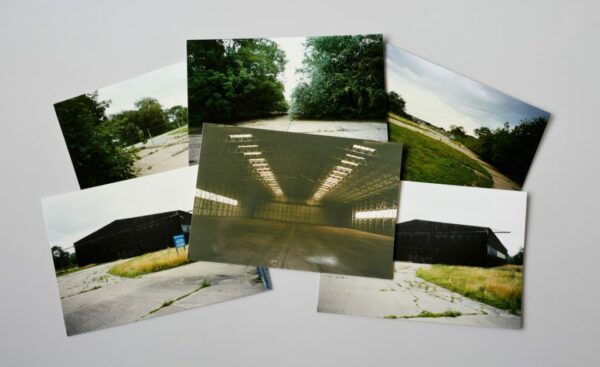 Our rural location comes with one huge advantage: space. These days, we have three aircraft hangars, our Technical workshops, several offices and a vast amount of outside space at our disposal. In addition to creating a cornucopia of projects, this space allows us to test-build, expand our workshops as required, accommodate new machinery and store stuff. It also affords us the relative luxury of reorganisation – moving departments around or creating new ones, such as 3D printing, to optimise the way we work.
It wasn't always like this. Digging back through the photo archives reveal just how far we've developed as a business. Our time on Marston Moor Business Park goes back to the late 1980's when CEO Mark Johnson, together with Jim Tinsley and Phil Orchard, moved from a Leeds city centre workshop to the airfield site here at Tockwith to form the appropriately named Hangar Services.
Why the move from Leeds? Space – and plenty of it.
The capacity to test build in particular, has proved key to Stage One's development. Clients love it and it's been essential for innovation, enabling us to develop, test and prove our technical kit and projects. Mark Johnson
CEO
The Business Park is located on the old WW2 airfield of RAF Marston Moor, established primarily to defend the City of Leeds from aerial bombing. Group Captain Leonard Cheshire was Station Commander here from 1943 and Clark Gable, 'The King of Hollywood' was also stationed here for a while. More importantly for Hangar Services, by the late 1980's there were numerous empty aircraft hangars and ancillary buildings for rent, which provided cheap and plentiful space for a fledgling set-building business.
Over three years, Hangar Services grew from 1000 square feet to take in an entire aircraft hangar in the middle of the airfield site. In order to manufacture and test build the massive set for the 1991 Earl's Court production of Tosca (the stage had to accommodate a 100-strong chorus, a flock of sheep and a pack of Great Danes), they also rented the airfield's old parachute store and H block, the airfield providing that most desirable commodity: flexible (if occasionally leaky) space.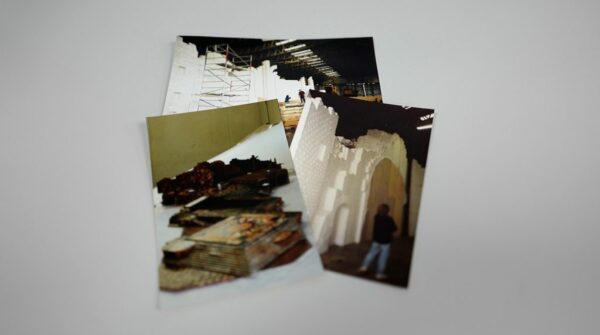 By the time Hangar Services merged with Shipley-based Stage One in the mid 1990's the MOD had finally vacated Hangar 88: a nice dry, clean hangar and an ideal proposition for the new and much larger Stage One Creative Services Ltd. Initially, the space within Hangar 88 was split with the metal shop and technical department in one half and storage plus all-important test building in the other half. The wood workshop and offices (see photo below) remained mostly in Shipley.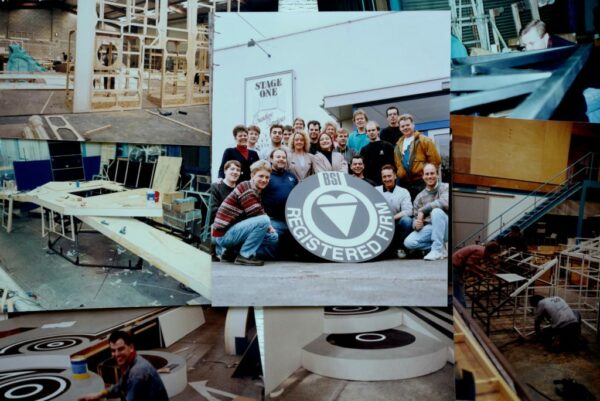 At this point, Stage One had just won a large Land Rover project requiring test builds and AV programming – all of which could be carried out in the new, clean, dry hangar. In addition to workshop space, Tockwith also offered the opportunity for short-term lease of extra units. When your work is project based, the agility this affords is priceless. Space played a huge part in propelling the business forward.
By Christmas of 2003, Stage One had moved entirely to Hangar 88 at Tockwith. Meanwhile, the outside space allowed us to develop and test complex and highly confidential automated projects such as the 18-piece Cycladic head for the Athens 2004 Olympic Games and Thomas Heatherwick's cauldron for the London 2012 Olympic Games. Outdoor space was and is key to the testing and proving of catenaries; 3 and 4-way bridle systems and also complex structures such as Zaha Hadid's Chanel Mobile Art Container. As for the capacity of our Hangars, well, there has only ever been one project that didn't quite fit. The giant Ice Breaker for the Sochi 2014 Paralympic ceremonies saw us create the superstructure and vast, inflatable hull separately. It's still hugely impressive. You can see it taking shape here.
The video below of Hangar 84 gives you a taste of what capacity means to us as a business. This is just one of our hangars, with the throughput of projects photographed over the course of a single year.
Nearing the close of 2019 and we're still here at Hangar 88. But these days you'll also find us at Hangar 84 and Hangar 85. And over the road at Minster Hag, where our Technical Department now have their own dedicated workshops and test build facility.
Our site offers huge freedom. By taking the commercial decision to prioritise space, we're free to test-build, store stuff and expand our workshops, investing in new machines certain in the knowledge that we have the capacity to accommodate them. Our giant Poseidon 5-Axis CNC Machining Centre alone takes up a 9m by 5m corner of our Machine Shop. That's roughly half the workshop we originally rented back in the late 1980's. Ultimately, space is the starting point that enables us to deliver the fantastic projects we do.
And our 3D printing company, Fluxaxis, is the latest Stage One department to out-grow its current corner of the Hangar 88. Looks like another bit of reorganisation might be on the cards…
Quite literally, watch this space!