Stage One's contribution to UAE National Day 51
Article
02 Dec 2022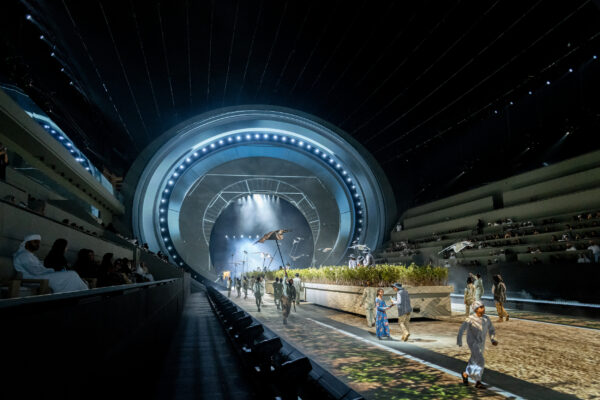 Each year on 2nd December the United Arab Emirates celebrates its unification and to mark the event, grand celebrations are held across the region.
For the last four years, Stage One Creative Services Ltd has been invited to work on the headline ceremony event which has seen us float a 220-tonne steel structure on the Hatta Dam, create a gigantic kinetic cube and provide a stunning aerial system and scenic elements. Each year presents a new opportunity for us to deliver performance environments, engineered structures that incorporate automation and control, and 2022 was no different.
This year saw us deliver the core components of a 'time tunnel' that included:
Two free standing portal structures standing at 23m tall
Two sets of automated slide and seal doors measuring 12x7m
Two intermediate support arches made up of eight sections of 6m truss
Two crane towers to pick up these arches
Nineteen steel wire catenaries of 114m to support lighting
Ten daily shows
The portals at each end of the tunnel acted as projection surfaces for dynamic content. At intervals throughout the show, the doors in these portals would unseal and open, allowing scenic props and motorised floats to enter and travel along the tunnel. The opposing doors at the other end of the portal would open subsequently to allow the scenery and floats to exit the tunnel.
Each sliding door mechanism was driven by one of our JAF winches, with the seal and unseal mechanisms delivered using motorised chains. The programming and firing of these cues were all handled beautifully by our own Qmotion product.
From an automation perspective, the show was straightforward in terms of numbers of axes and cues. However, the size and scale of the portals gave great impact to the bold reveal of the scenic elements of show that was designed by our long-time collaborator Es Devlin.
The show was expertly produced by People Creative and we were grateful for the support of our friends in territory from VK Exhibitions.
📷 Photography credit: People