Back
Behind the design
The Hive
[Kew Gardens, UK]
Artist: Wolfgang Buttress
Year
2016 Client
UK Trade & Investment
32 layers of spiralling hexagonal cells, made from over 169,300 aluminium components and 1,000 LED lights, bring together science, art and engineering.
7,000 METRES OF STEEL WIRE ROPE
4,500 HOURS OF CAD DESIGN
7,000 METRES OF STEEL WIRE ROPE
4,500 HOURS OF CAD DESIGN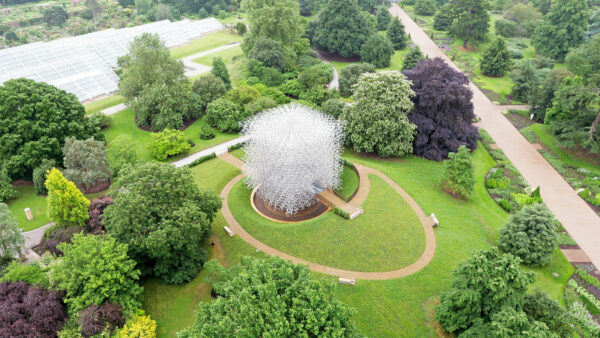 The 17-metre 50-tonne metal structure is designed as a honeycomb, with a globe-shaped hollow in the middle and includes a glass platform so visitors can walk inside the immersive experience.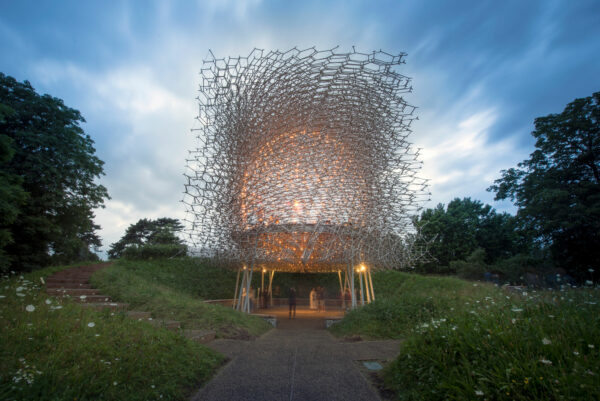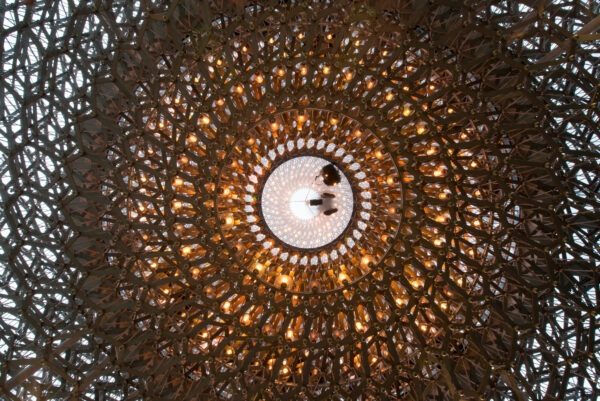 The Hive, designed by artist Wolfgang Buttress, was originally built for Milan's 2016 Expo, which focused on feeding the planet, and secured the Landscape Institute Award for its immersive impact.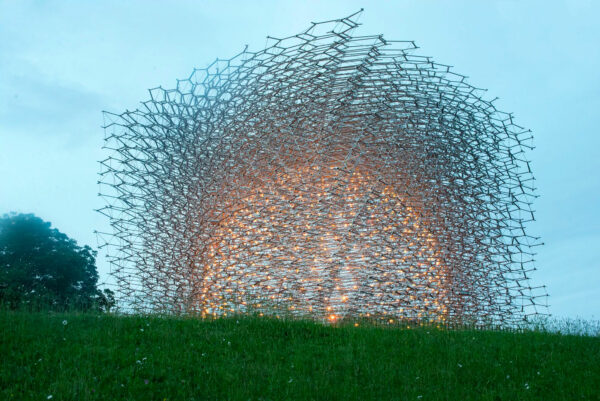 On his award-winning pavilion, Wolfgang Buttress said in an interview with Dezeen, "I think a lot of the pavilions have had technical problems," he added. "One of the reasons for working with Stage One, who built this for me, was that we could build everything in parts over in York and then transport it over here, so we were in complete control."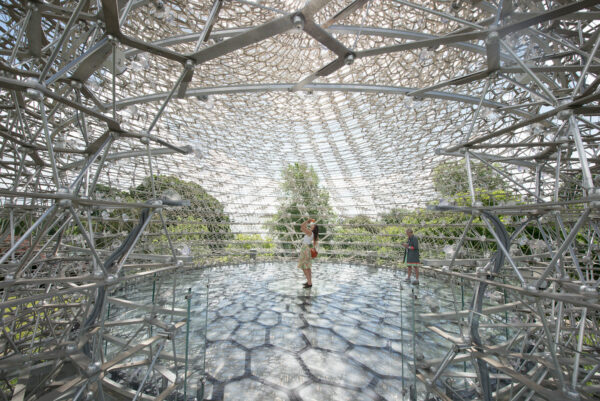 Usually seen as a temporary structure, this installation was the first Expo pavilion to be repurposed and given a life beyond the project, delivering on its sustainability messaging of protecting the environment. The Hive now sits within a wildflower meadow at The Royal Botanical Gardens at Kew Gardens, and the LED lighting is powered by a neighbouring beehive, replicating the activity.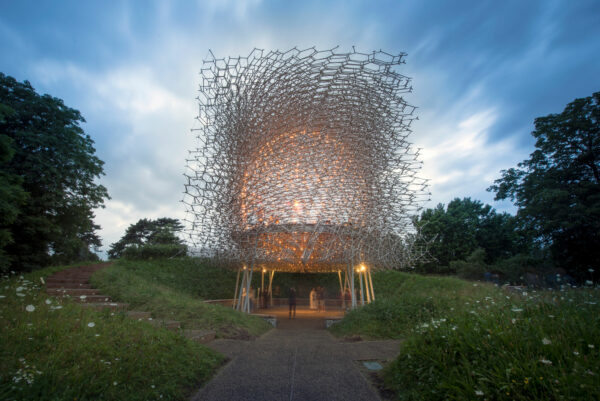 The UK Pavilion at the Milan World Expo 2015 was an outstanding success. It was visited by over 3.3 million people in just six months, with a further 450 million people viewing it across the world's media and online, and it received multiple awards, including the Expo's gold medal for best architecture and landscape design. Lord Maude
former Minister of State for Trade & Investment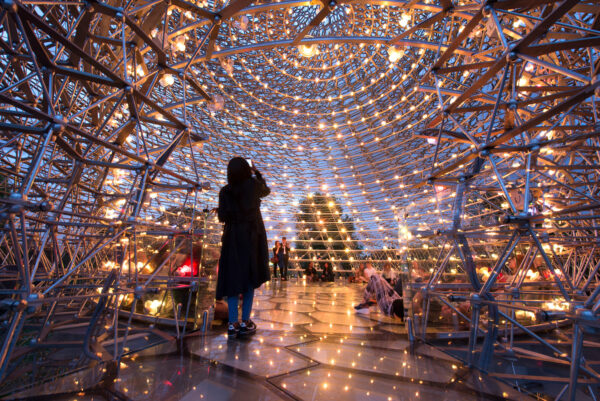 Awards
Gold Award for Architecture and Landscape BIE Awards, UK Pavilion Milan Expo 2015
Best Pavilion Architecture Award Italian Association of Architects and other Italian associations
National Construction and Landscape bodies UK Pavilion Milan Expo 2015
Best Public Use Project with Public Funding Blueprint Awards, UK Pavilion Milan Expo 2015
Best of Best for Event/Exhibition Iconic Awards, UK Pavilion Milan Expo 2015
Best Landscape Scheme, High Budget Darc Awards, UK Pavilion Milan Expo 2015
Winner Lighting Projects WIN Design Awards, UK Pavilion Milan Expo 2015
Best Lighting Design FX Design Awards, UK Pavilion Milan Expo 2015
Building of the Year Manchester Architects Awards, UK Pavilion Milan Expo 2015
Best Completed Community Building Manchester Architects Awards, UK Pavilion Milan Expo 2015
Highly Commended, Landscape Award WAN Awards, UK Pavilion Milan Expo 2015
Highly Commended, Temporary Landscape Design Landscape Institute Awards, UK Pavilion Milan Expo 2015
Commended, Exhibition Lighting and Temporary Installations AL Awards, UK Pavilion Milan Expo 2015
Best Exhibit Winner Exhibitor Magazine
Iconic Award for 2015 Best of the Best for Event/Exhibition, German Design Council
Behind the design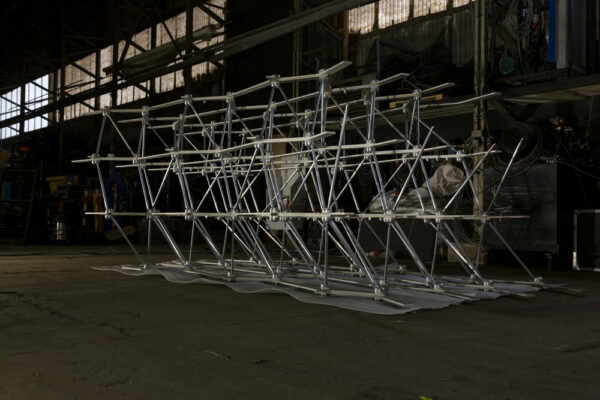 Year
2016
Client
UK Trade & Investment
Artist
Wolfgang Buttress
Architects
BDP
Design Engineer
Simmonds Studio
Photography
Jeff Eden, RBG Kew & Skyvantage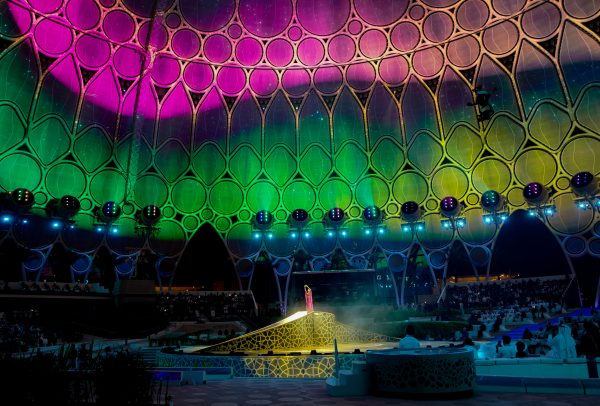 Filter
No results
Results