Inside the workshop
Article
12 Dec 2019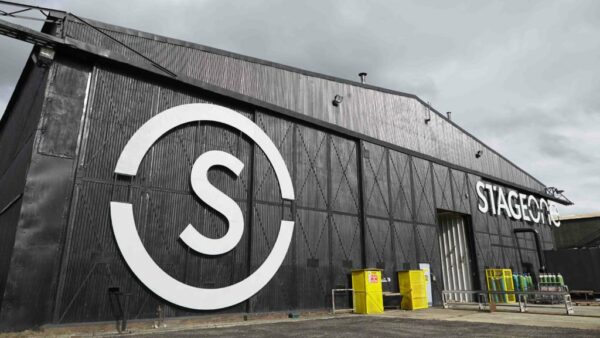 You may have caught one of our previous blogs in which gave a potted history of our thirty-years here at our Tockwith site. We thought we'd bring you right up to date with a look at exactly what goes behind those large Hangar doors…
We have over 14,000sqm of space at our facility in Tockwith and this enables us to deliver an incredible range of projects that vary in size from a Cathedral Donations Box or a single circuit board to large multi-structure projects or a giant 42-metre Scenic Ice Breaker. At the heart of our business are six workshop spaces housing our Metal, Wood, Paint, High Quality Finishing, Machining and Automation departments. Our production facility is the environment in which our clients' ideas are brought to life.
If you've ever visited us, you'll have seen for yourself that the doors of our hangars open into a world that is both industrial and creative. Our hangars provide the space for us to innovate, experiment and manufacture. With different workshops working on different tasks, it can be difficult to get a feel for how many people we employ, but there are over 150 highly skilled and experienced team members at Stage One, spread out across workshops and offices.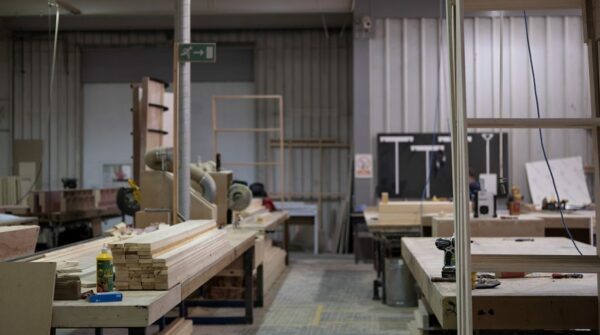 Hangar 88
In many ways, our Wood Shop is like any other: long work benches, the latest machinery, well-stocked orderly tool cupboards and our team applying the very best traditional joinery skills. What makes our Wood Shop different is the output. Traditional skills? Yes. Traditional projects? No. Our wood shop team are an adaptable lot, turning their skills to the kind of variety rarely seen in other companies. Their work veers from large volume production runs to bespoke one-offs. However unusual the making, the skills remain the same and our Wood Shop deliver sharp, clever joinery and craftsmanship such as for Asif Khan's 2016's Serpentine summer house or the recent Viking Throne commission. They're a versatile, agile team, often working alongside our many other departments on multi-disciplinary projects seen across the world such as Deconstructed Cube Form I by Paul Bonomini.
Our Metal Shop is a real workhorse department at Stage One. The team deliver the support structures and strength behind most of our work. They also deliver the can-do attitude that enables us to realise an incredible diversity of projects: one-week light gauge tubular structures or a sculptural installation, the next a heavy gauge mezzanine or truss frame for a ceremony. As with our Wood Shop, you'll see plenty of traditional skills – they're just often deployed in new and unusual ways. The Metal Shop's work is usually hidden, concealed behind some form of scenic cladding, out of sight in a stadium roof, or unseen beneath a stage. Sometimes, however, their work basks in the spotlight, creating a cloud-like pavilion from 27,000 lengths of steel tubing or intricately welding 1,327 individual, perfectly finished platonic solids for a complex sculpture.
Our Paint Shop team are practiced in the art of deception. Their skill means you can never quite trust your eyes as they transform sculpted polystyrene into a solid gold head, GRP into chocolate and polycarbonate sheet into the icy superstructure of a vast ship. Their painting and prop-making skills are complemented by an ability to find practical solutions to help recreate all kinds of finishes. On the Paint Shop walls, you'll see numerous sample boards, the results of research into different techniques, tools, materials and finishes. Creating realistic textures and tones often requires ordinary tools of the trade – brushes, sponges, rollers and stamps – to be used in ingenious ways. Think 2,770 sheets of plywood, each individually painted white, to create the floor for a vast interlocking stage. At the opposite end of the scale, however, a Dolls' House project saw our team working at a scale of 1:12, applying their skills in miniature.
Part of our Scenic offering is delivered by the skilled High Quality Finishing department. They work across two hangars, with dedicated areas in hangars 88 and 85. Their work isn't restricted to high-quality automotive paint finishes, they also work with a wide range of materials including metals, fibreglass and GRP. Our Finishing Team have dedicated spray booths, temperature-controlled curing ovens and even a separate metalwork priming paint shop at their disposal. When it comes to paint, our Pro-spray paint mixing centre allows our team to create highly specific paints to order. It's a computerised system that means we can offer a staggering 60,000 colours in-house, providing high-speed and accurate colour matching in project specific quantities.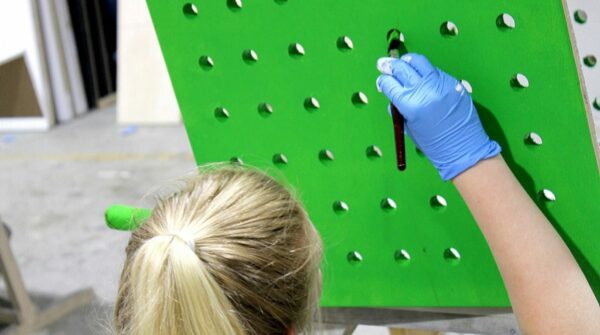 Hangar 85a
This hangar houses an extremely valuable resource: our dedicated test-build area. This area can be easily cordoned off, creating a confidential area for clients who really want to keep their project under wraps until the big reveal. The climbing wall/ramp for the recent Land Rover Defender launch was tested here, as were various prototype stages for the giant pointillist sculpture for the UAE Founder's Memorial. Part of our HQ Finishing Department is also based here in 85a, with dedicated clean areas, lay-up areas, spray booths and curing ovens.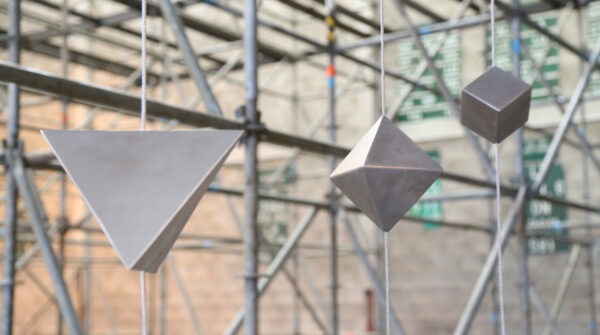 Hangar 85b
Our Machine Shop is filled with precision equipment for cutting, turning, milling, forming and shaping all manner of materials: be it one-offs or multiples in their thousands. Practically every project we deliver will use this department in some way. Our vast Poseidon 5 Axis CNC machining centre can transform a block of high density foam into a giant yet intricate sculpted head. While our Flat-bed Laser Cutter made light work of cutting 9,250 aluminium discs for the facade of the BBC Studios Pavilion at this year's MIPCOM. From traditional lathes to powerful Multi-Axis Machining Centres, this department is the lynch pin of the company. It probably made the lynch pin too.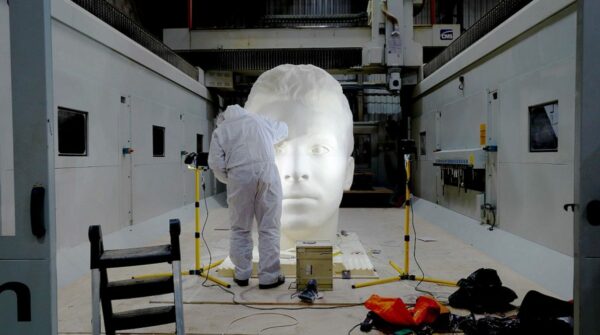 Minster Hag
With our business focused on turning creative ideas into jaw dropping reality, our Qmotion and Automation Department now reside in our new 2,000sqm Technology Centre, just over the road. Providing the creative pulse and innovative drive behind some of Stage One's greatest and most transformative projects, they have the space at Minster Hag to develop and test ideas, systems and hardware, ultimately delivering projects that include flying performers across a stadium, transporting scenery into an arena or revealing an Olympic Cauldron. One of their most complex automation projects was the 2014 Sochi Winter Olympic Ceremonies. Our brief was to develop a comprehensive aerial track system to accurately fly performers and very large scenic elements around Sochi's Fisht Stadium. The wealth of specific knowledge, experience and skill in this department allows us to fulfil the brief for complex technical projects entirely in-house. In the video below, Qmotion Director Karl Bromage, will give you a better idea of the amazing projects this department works on.
Hangar 84
This is our primary test build space. It's also large enough and flexible enough to allow us to test build several projects at once, in fact a huge number of projects work their way through this hangar as the time-lapse from this previous blog demonstrates beautifully. To give a sense of scale, this is also where we built the 40 metre-long Ice Breaker for the 2014 Sochi Paralympic Games. Hangar 84 is also home to our well-organised and well-stocked Stores department and includes space up on the large mezzanine. There's a self-contained project office with meeting rooms nearby, offering a semi-permanent home that can be used on a project by project basis or occupied by clients for long test builds or periods of extended project development.
We often quote designer and architect Thomas Heatherwick who back in 2012, described our workshops as being 'like a James Bond gadget workshop'. We love that comparison. Besides being exceptionally flattering, (who wouldn't dream of working in Q's cutting-edge, fiendishly clever workshop?) it comes with an appropriately strong sense of ingenuity and technical creativity. Add to that the diverse capability and scale afforded by our hangars and you pretty much have Stage One in a nutshell.
Albeit five very large ones.