Kéré Architecture / Francis Kéré presents Counteract
Press
18 May 2023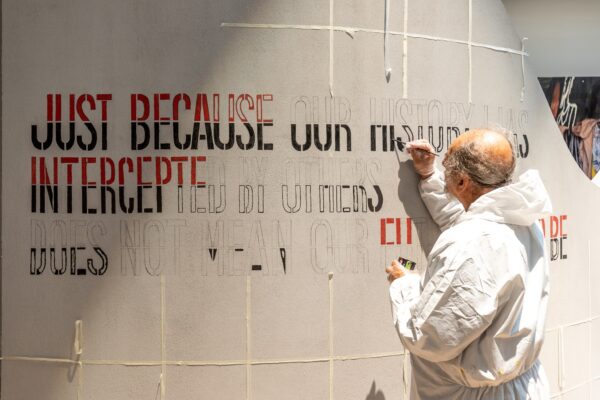 "Just because our history was interrupted by others, does not mean our future has to be" Francis Kéré
Following the success of bringing Diébédo Francis Kéré's Serpentine Pavilion to life in 2017, we were thrilled to join forces with the creative team once again for a new project in Venice. This time, we have created a unique two-room experience featuring textured walls made from clay plaster. Our team has meticulously tested various methods to ensure a flawless finish that meets our high standards for the entire project.
Counteract . Venice . 2023
Francis's Kéré was invited by Lesley Lokko, the first African curator of the Biennale Architettura in Venice, to participate in the Biennale Architettura 2023 exhibition titled "Laboratory of the Future", which opens its doors to the public on May 20th 2023.
Occupying two rooms in the Central Pavilion in Giardini, Kéré's installation helps set the tone and guides visitors through an unprecedented showcasing of architectural solutions outside the status quo. The majority of participants this year is based in, from or connected to the African continent.
"It is an honour to be part of the community of architects and designers in Venice this year. Africa produces less than 4% of the world's carbon emissions and could be a leader in sustainable solutions, but its expertise and knowledge are still underused. What Lesley Lokko has managed to do for Africa and our architecture is a great achievement. I often find myself being the one who is different in my field, but for once it is the opposite – I am so happy to contribute to an exhibition that puts our continent front and centre." says Francis Kéré.
Counteract, as the Kéré work is titled, seeks to give context to the history and potential future of the architecture from and for West Africa. "Just because our history was interrupted by others, does not mean our future has to be," reads Kéré Architectures curatorial statement. The installation explores what this may mean for architecture through three themes: Was Was, What Is and What Can Be.
What Was takes the shape of a clay wall showcasing the sustainable material that has been tried and tested in West African architecture for centuries.
What Is attempts to drive home the crammed and more uncomfortable living conditions of urban living in many of West Africa's metropolises today, with an abstract interpretation of the concrete structures commonly found in rapidly growing urban areas.
For the installation's highlight, What Can Be, Francis Kéré prototypes what happens when the expertise of traditional architecture is thoughtfully braided together with the needs of contemporary living. The work occupies a dedicated room, and takes the shape of an organic pavilion, inviting visitors to pause and immerse themselves in an architecture that feels at once familiar and unlike anything they have experienced before. Staying true to Kéré's participatory way of working, the details of the installation were worked out with Stage One.
"I have huge admiration for Francis Kéré's work and have enjoyed an association with him since our collaboration on the 2017 Serpentine Pavilion. His style is unique and his enthusiasm infectious. He is a pioneer in the field of experimental architecture," says Stage One Managing Director, Tim Leigh.
The Biennale Architettura 2023 is open until Sunday November 26, 2023.
—
Status: Temporary Exhibition 20th May – 20th November 20th
Date: 2023
Site: 18th Biennale di Architettura di Venezia, Italy
Size: ~ 50 sqm
Collaborators: Stage One, AECOM, ApARTe°/Escuela Moderna