New details revealed for the 22nd Serpentine Pavilion designed by Lina Ghotmeh – Architecture
Press
04 May 2023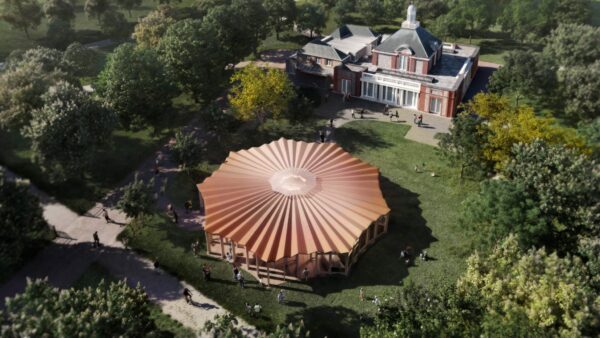 The innovative design by Lina Ghotmeh complements our desire to use more sustainable materials while also advancing our expertise in mass timber building. Tim Leigh
Managing Director, Stage One
The 22nd Pavilion, designed by French-Lebanese Paris-based architect Lina Ghotmeh, will be unveiled to the public at Serpentine South on Friday 9 June 2023 with Goldman Sachs supporting the annual project for the 9th consecutive year.
This pioneering and prestigious commission, which began in 2000 with Dame Zaha Hadid, has presented the first completed UK structures by some of the biggest names and emerging talents in international architecture. The Pavilion has evolved over the years as a participatory public and artistic platform for the Serpentine's innovative, experimental, interdisciplinary, community and family programmes.
Ghotmeh leads her practice Lina Ghotmeh — Architecture in Paris, France, where she develops projects at the crossroads of architecture, art and design, on a global scale. Considerate of social conditions, environments and materials, her practice takes an in-depth 360 approach to its projects including research on location history, typology of the place, materials, resources, users' habits etc. The architect's designs are developed thorough historical research which emerge as interventions that enliven memories.
On the Serpentine Pavilion, Tim Leigh, Managing Director at Stage One Creative Services said: "It's always a pleasure to return to Serpentine, and we are honoured to have been commissioned for the fourteenth consecutive year. Every time we are presented with a radically different design, and we especially appreciate how these architectural plans are experimental. The innovative design by Lina Ghotmeh complements our desire to use more sustainable materials while also advancing our expertise in mass timber building. Additionally, we have used pre-cast concrete pads for the second year in a row, which lowers the total amount of carbon embodied in the project and permits reused of same foundation when the Pavilion is rebuilt in its permanent position."
Read the full press release online, or visit the Serpentine website for more information.
Serpentine South | Friday 9 June – Sunday 29 October 2023 | Sponsored by Goldman Sachs.
Press view: Monday 5 June, 11am – 2pm, RSVP essential, details are in the press release.