The Baku Glove Thief
Article
26 Sep 2019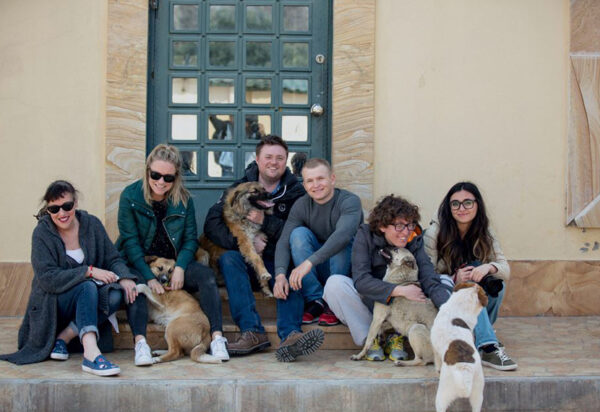 Stray dogs are not a new phenomenon to our crews who work on-site across the world. We arrive for months of extensive fit-ups in new, sometimes even unfinished stadia. These sites and their surrounding areas are often a chaotic mix of disparate contractors undertaking all manner of schedule-chasing work. Street dogs are part of this mix. And although usually regarded as pests by the local authorities, they become part of everyday life for crew. The combination of certain canine personalities and hard working crew far from home, lead to some strong bonds. And one such dog, was Chewy. He and project manager Dan Bell met in 2017, while working on the European Games Opening Ceremony in Baku.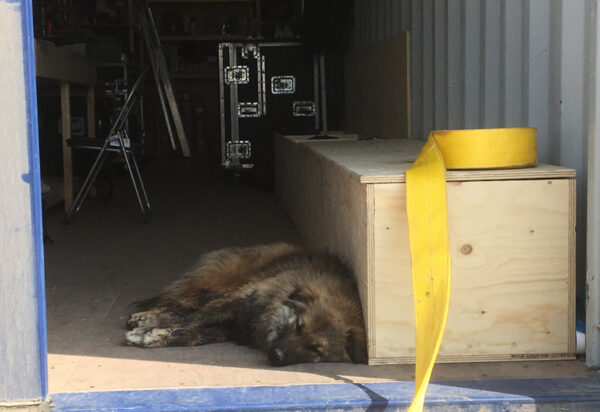 Meet Chewy the Baku site dog. He turned up a week after we arrived on site looking hungry and tired. It took a few days for the trust to build, the first few days he wouldn't even come near us. Covered in oil and tar, we presume he had been dumped in the nearby lake. Once he knew we were a safe bunch, he started to tag along with the team.
He was now known as the Stage One Dog by everyone on site and even the locals. As the weeks went on, his personality started to show. Every morning running over to greet us and chase us off when we left in the bus. Eventually Chewy found out how to have fun on-site. That meant stealing crew gloves, ripping up hi-vis jackets, and pinching ratchet straps.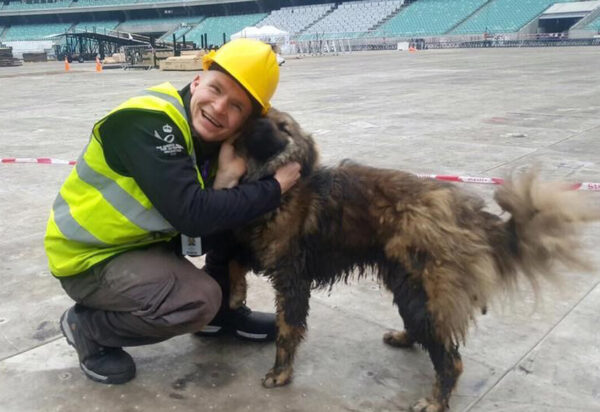 At some point, the right thing to do was to try and clean him up. No soap was going to sort him out, so Brian took a trip to the local pet shop in town to get the essential scissors and brushes then started chopping all the tar and oil out of his fur. We were thinking he would rip Brian's hand off but to our surprise he was on his back loving every minute of it!
This is when we knew he wasn't a stray and had obviously been dumped and left to fend for himself. Which made us start thinking … what will happen in a month when the site goes to lock down and the dogs are rounded up to be removed from site? Well, we all know what happens, it's either shooting practice one evening for the local authorities or thrown in a van and dumped in the desert miles from anywhere. And that was not happening to Chewy.
We heard of a lady on site called Natalie who has set up a voluntary Baku Rescue Centre for the dogs roaming the streets of Baku. So we had a chat with her and she had already managed to get 8 dogs off site and 6 re-homed in America on this gig alone and 100's of dogs over the last few years.
The crew have chipped together enough funds to give him all of his jabs, a kennel for the next 8 weeks and a good bath before he is ready to fly to his new home. There you go, a nice story from us here in Baku. Chewy is safe and sound doing well. Visit Baku Street Dog Rescue on Facebook to see how well the volunteers are doing helping not just Chewy, but many stray Baku dogs."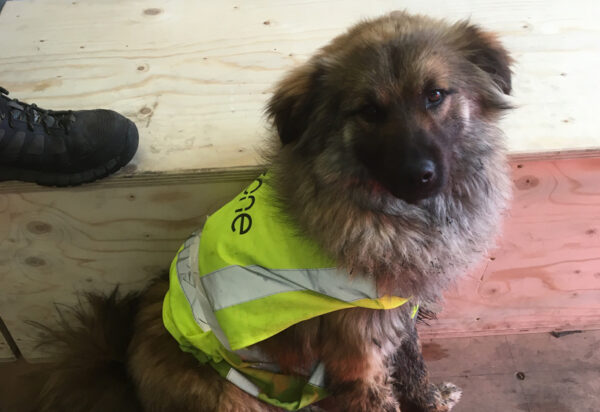 *UPDATE!*
"Chewy was spotted on the Baku Street Dog Rescue Facebook page by one of our followers who already has a Baku dog, Theo. Chewy arrived in New York on 27th May and was met by Maritza our volunteer in NYC. Chewy went straight to Sean Casey Animal Rescue who organised the paperwork for the adoption and the new family turned up at lunchtime and collected Chewy. Theo is a brilliant dog and has welcomed Chewy into his home. Thanks to you and the Stage One guys for all the support as we can't rescue without funds and we greatly appreciate the fundraising you have done."
Below is a photo of Chewy in his new home, with Theo. Thanks to everyone who donated! If you'd like to find out more about the great work Baku Street Dog Rescue do, take a look at their Facebook page.