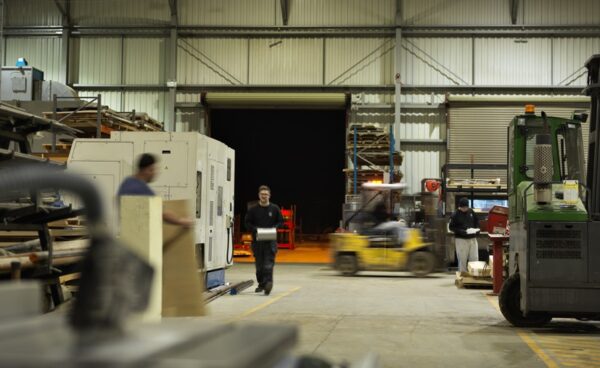 Trying new things is good for you. We all know it, but it can still be a challenge to put ourselves out there.
Same goes for businesses too. Trying new things pushes us out us of our comfort zone, helps stimulate creativity and helps us recognise what works – and sometimes, what doesn't.
Here's our list of new things from 2019…
We have a new office in Abu Dhabi! This will allow us to work even more closely with clients and partners in the territory. Ever the innovators, we've added an impressive new 3D printer to our collection. Our 3D printing company, Fluxaxis, is going from strength to strength, tackling projects that range from end-use industrial parts to collaborations with artists. We've welcomed thirty-two new starters across the business and seen apprentices Rebecca and Jack join us as fully qualified creative industry professionals. We also have a new MD. As our Sales and Marketing Director, Tim Leigh has been an integral part of Stage One since 2013. We're delighted he's taken on this new role. We've held lunchtime barbeques throughout the summer – hard work for the chefs, but a great chance for everyone to get together. And the sun shone too! We've also tried our hand at podcasts. If you haven't listened yet, give it a go – we found it fun and fascinating. And, finally, as you must've noticed, we have a brand spanking new blog page. Recent posts include LadderLogic, Inside the Control Room and 'Twelve by Twelve', a look at the time-restricted installation of the BBC Studios MIPCOM pavilion.
So, how did our year of projects pan out?
We started with quite possibly the best crew call ever and have ended it with this year's Sports Personality of the Year Show, our 8th in succession, which came live from Aberdeen.
As for the rest of our 2019 projects, we can summarise these in three categories:
Big & Global
Special Olympics Abu Dhabi 2019: A flying system, telescopic cauldron and large flown LED disc. The cauldron was a thing of beauty with twelve nesting layers of 252 individual rolled and anodised aluminium plates, rising to a height of six metres.
The huge de-mountable structure for BBC Studios MIPCOM pavilion was 18 months in development and manufacture yet was installed on site in Cannes in just six days. It's a bit of a landmark project for us. Read more about this on the blog piece mentioned above.
The 48th UAE National Day was our largest project of 2019 included a vast stage, huge donut revolve, a flying system and an elegant, stylised scenic boat.
Every detail for the immersive Amazon: Destination Denim was thoroughly considered and cleverly planned. Think a multitude of concealed fixings, flawless finishes and a masterclass from our crew in on-site organisation.
We produced twelve very different branded structures for Android at the Mobile World Congress. All was produced to an exceptionally high standard, with clever manufacture and sequencing ensuring installation was completed in just 48 hours.
Small & Local
Craftsmanship took centre stage in the creation of a two-metre high carved
Viking throne
 for Asgard, a new concept shop in our local city of York.
This Pod system was created for a new, entrepreneurial start-up also in York, delivering flexible, productive self-contained working environments.
And in our other local city, Leeds, we helped refashion storage containers to create the two-week Pop-up and Play activation in the city centre.
Everything in-between
There have been so many 2019 projects. Here's a snapshot of just one season, Summer.
Summer '19 saw crew on site to deliver our eleventh Serpentine Pavilion; two large projects – Google and Spotify – on the beach at the 2019 Cannes Lions Festival; the D-Day 75 commemorative garden at RHS Chelsea Flower Show and the realisation of artist Ayşe Erkmen's 'three of four' at Leeds City Art Gallery's Central Court, a major installation for Yorkshire Sculpture Festival. The season ended with a vertiginous launch for the new Land Rover Defender at Frankfurt in September.
Regardless of size or season, every single project depends on productive collaboration with clients and the hard work of staff and crew. Most of us (but not all) will have the chance to put our feet up during the Christmas period. Trying something new over the next week or so will most likely involve sampling a different brand of mince pie or an attempt to put a new 'twist' on turkey leftovers.
We'll be back on January 2nd though, hitting the ground running in 2020.
Bring in the new!